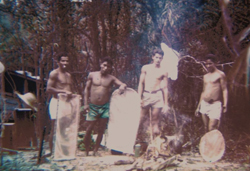 Ever since the discovery of the cardinal tetra in 1955, Brazil's Rio Negro has been a fertile collecting ground for tropical fish bound for home aquariums the world over. With well over 800 freshwater fish species known to inhabit this important waterway, the Rio Negro is a freshwater biodiversity hotspot and home to many species found nowhere else on earth.
The collection and export of aquarium species is a major source of livelihoods in the Brazilian state of Amazonas, and employs hundreds of families throughout the region. This income from largely sustainable fishing efforts acts as a powerful incentive to protect aquatic habitat and the surrounding forest. Without the aquarium fishery, many would be forced to turn to slash-and-burn agriculture, cattle ranching, logging, intensive food fishing, or other environmentally destructive forms of subsistence.
But this fishery, and the environmental stewardship it fosters, are at a crossroad.
Competition from aquacultured fish and other exporting countries, coupled with increasingly negative views of wild collection, have pushed the Rio Negro's aquarium fishery to the brink of collapse.