Founder's Message
A Hobbyist Dream Come True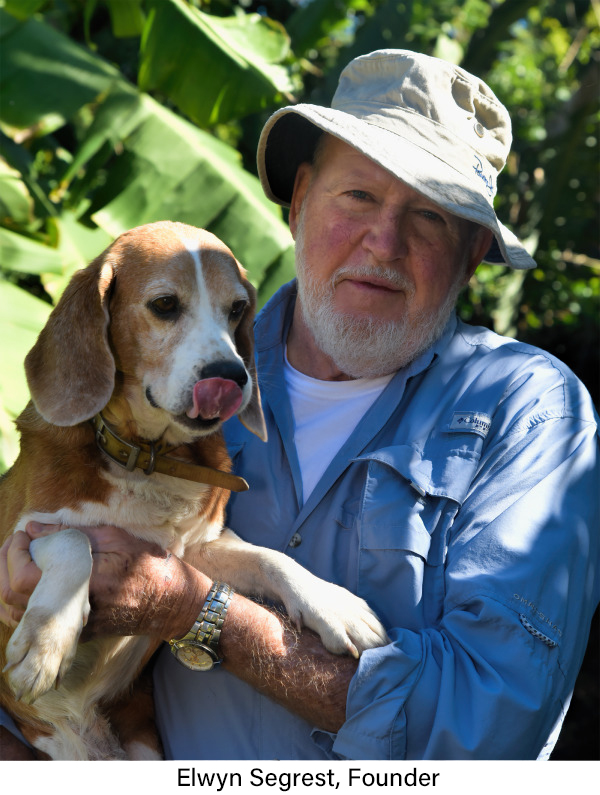 When my parents would take me shopping with them, they had a cheap baby sitter. They would take me to the Woolworth store and there I would sit watching the fish until they came back for me. That began 56 years of playing, dreaming and working with tropical fish. Everything and much more that I ever dreamed about has come true.
In 1961 I graduated from college, found a teaching job, married my high school sweetheart, Carol and had an aquarium in every room of the house including the bathroom. Quickly Carol became tired of aquariums on her dresser, kitchen counter, and every flat surface in the house. She willed my aquariums to the garage. At that point, I began raising fancy guppies and angel fish and selling them to the pet shops in the area and this began my commercial career in fish. I then opened a pet shop in our garage and Carol went back to college to finish her degree.
I read every book printed about tropical fish so I knew the center for tropical fish was the west coast of Florida. When Carol finished her degree, we applied for teaching jobs in Florida. We were lucky and received a job offer, which we snapped up. So off to Florida we go with everything we had, two kids, a dog, my aquariums, and the fish in an old Ford Falcon and a U-Haul trailer. There were a few problems along the way, such as wet car seats, the whole floor of the car being covered with water, and the kids and dog soaking wet. The kids were crying, the dog was howling, the fish were in stress, and I was receiving some not too loving stares from Carol, but we made it. We found a house that was sort of run down, actually a dump, but it had a garage underneath the whole house for the fish. It looked great to me but Carol was not smiling.
We began teaching, raising angel fish, and selling them to the many fish farms and fish wholesalers in the area. We still had no idea we could actually make a living raising fish, so during all of this we decided we could go to night school and get our Masters degrees. So I received a Masters degree in Psychology and have had the best psychologically adjusted fish in Florida every since. We lived off our teachers pay and put every cent the fish could make and all we could save back into the business.
Towards the end of the school year of 1970, my largest wholesale customer asked me if I wanted to rent a room, raise fish full time, and he would buy all the fish. I almost jumped across the desk and kissed him. So my teaching career ended and I became a full time fish farmer.
The wholesale business grew and I was asked to combine the businesses, become a partner and take over all fish production. Again I jumped at it and became the production manager of the entire breeding facility and 1,176 outdoor ponds. With this training and experience, I learned not only how to produce large volumes of fish but also how to manage a large fish wholesale business.
In 1977 the farm and the wholesale business sold. By now, we were committed to this so we rented a small overgrown farm with a rusty metal building and we began our own farm (pulling cattails, chopping trees, and pumping mud) and wholesale business selling to pet shops. Carol continued to teach, as we had to have something to eat and raise two boys.
Today Segrest Farms has a facility in Gibsonton, Florida that employs 127 people. It contains 5,500 freshwater aquariums, 60,000 gallons of salt water systems, a plant department, and a reptile department. We have fish farms totaling 135 acres containing 987 ponds. We supply over 1,000 pet shops each week.
Segrest Farms is continuously growing, building, and planning.
In the U.S., we operate facilities in Gibsonton, FL, Columbus, OH, Phoenix, AZ, and Los Angeles, CA.
Overseas, we own, are partners in, or have built for our suppliers saltwater collection stations in Philippines, Panama, Hawaii, Sir Lanka, Sumatra, Nicaragua, Eritrea, Saudi Arabia, St. Vincent, Bahamas, Fiji and Palau.
I have traveled over most of the world. I have been collecting up the Amazon River, the middle of Mexico, South East Asia, Africa, etc. I have dived many of the oceans, seas, and bays of the world.
Truly, a hobbyist's dream comes true.
The good Lord has blessed me and I have been the luckiest person in the fish business. Carol has put up with some of the craziest ideas and situations one could imagine. Over the years Segrest Farms has collected some of the most capable, dedicated, and loyal people there are. These 3 things have been the keys to the success of Segrest Farms, the world's largest supplier of ornamental livestock.